West Onondaga Street Green Corridor and Gateway
Right here on our own street, we are pioneering change.
West Onondaga Street in Syracuse is a main thoroughfare connecting downtown with parts west. It is used by commuters and locals alike. Pedestrian traffic is heavy. Homes, businesses, institutions, and community organizations all find their address on this street.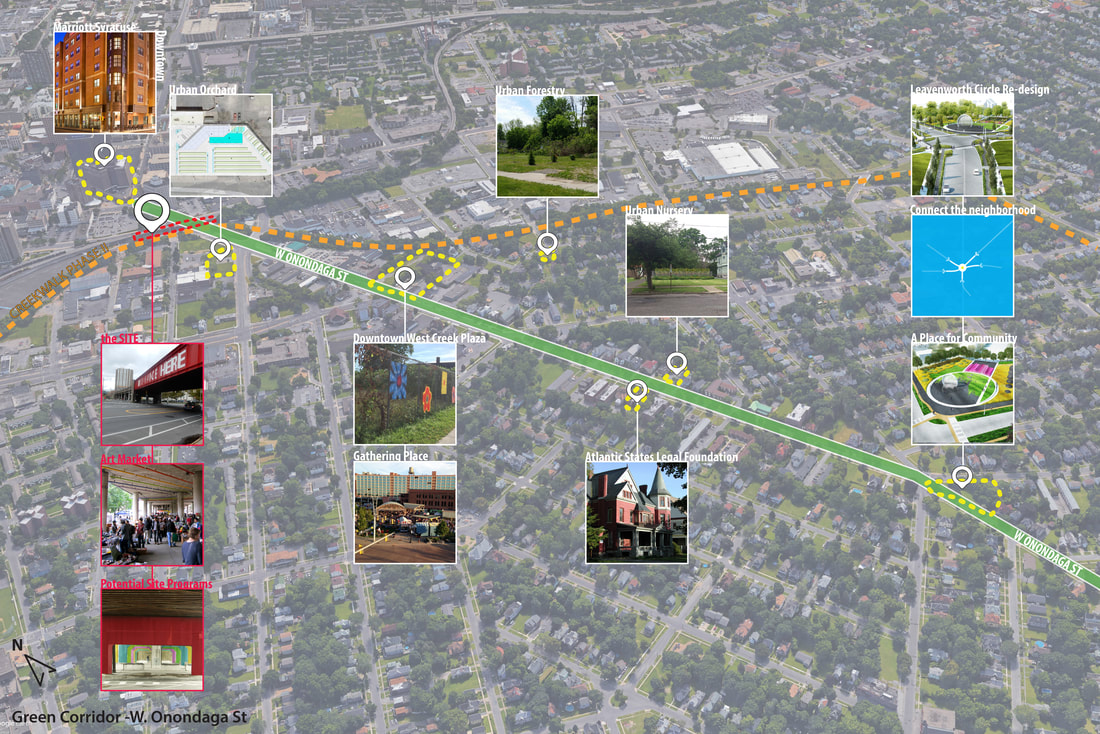 Different social and economic energy flows through the corridor, and like many inner-city communities in Syracuse, poverty levels fluctuate greatly.
Working with local community groups and residents, we are revisioning a neighborhood-level plan for resiliency based on different land use of both public and non-public space alike.
This is a grassroots work in progress, and an excellent example of adaptive management. Here you can find information on the various components for this initiative.
If you live or work in the West Onondaga Street neighborhood and would like to get involved, please feel free to contact us.
The West Onondaga Street Green Corridor (pdf)
---
Redesign of Leavenworth/Onondaga Circle
The West Onondaga Green Corridor and Gateway includes a dramatic redesign of Leavenworth (also known as Onondaga) Circle. ASLF worked with
NOMAD Studio
on a new concept, called "The Magnet". The design incorporates an open plaza as well as a very unique water feature. We have a dedicated website for this project that can be accessed
here
.
What's next? To make this a project a reality, we need your support! You can help us advocate and fundraise to get this project built, and put Syracuse on the map for innovative urban design.
​
Contact us if you'd like to get involved in this exciting project.
---
ASLF Campus Improvements

We continue to make green improvements to our facility at 658 West Onondaga Street. These projects should be finalized by the close of 2017, and include:

- Two green roofs (completed)
- Driveway and parking lot replaced with porous pavement, with a demonstration of nine different types.
- Front garden restoration with a fountain that utilizes stormwater. The garden will stylistically resemble an 1880s "gardenesque" planting, but with native species.

These projects are partially funded by an Environmental Benefit Project, but we still need supplemental funding to finish our stormwater fountain. Please consider a donation to help us with this great demonstration piece for the West Onondaga Street neighborhood!
---
Urban Tree Nursery

In 2015 we broke ground for the (first of its kind in Syracuse) urban tree nursery at 663 West Onondaga Street. This unique non-profit facility will provide native RPM trees for local and regional forestry projects. Installation was funded by our Environmental Benefit Project as well as a Great Lakes Restoration Initiative grant. If you would like to learn more about the nursery and how you can purchase trees, please contact us.