Board of Directors
​
The collective experience and diversity of the Board of Directors is what strengthens and guides ASLF's mission. If you would like to contact the Board, please fill out the form on our Contact page and we will connect you.
Robin Chanay
, Chair
Martha Loew,
Vice Chair
Steven Kulick,
Secretary and Treasurer
Kevin Bliss
, General Board
Khristopher Dodson
, General Board
Samuel H. Sage,
General Board
Chuck Dworkin
, General Counsel
Richard J. Lippes
, General Counsel
ASLF Staff
---
Alma Lowry, Interim Executive Director
Alma Lowry has practiced environmental and environmental justice law since receiving her J.D. from the University of Michigan Law School in 1995. She has worked on a wide range of issues, including waste management, Superfund remediation, hazardous facility siting, and water pollution, and has represented low-income communities, communities of color, and non-profit environmental organizations in Michigan, Maryland, the District of Columbia and New York State. She has worked for various non-profits and educational institutions, including the Public Interest Law Firm at Syracuse University College of Law, the Maurice and Jane Sugar Law Center for Economic and Social Justice, and the Institute for Public Representation at Georgetown Law. For the past six years, she has been of counsel to the General Counsel for the Onondaga Nation on environmental law matters and continues to provide legal support to the Nation, primarily related to Onondaga Lake and Onondaga Creek.
​
Alma received an M.S. in Environmental Policy from the University of Michigan in 1996 and an interdisciplinary PhD in Social Sciences from Syracuse University in 2013. Her doctoral work focused on political theories of justice and public participation and her research evaluated the effectiveness of enhanced public participation as a response to environmental justice concerns. In addition to her legal work, Alma has taught courses in government, environmental policy and environmental justice at several local colleges and has been an instructor in legal clinics at Georgetown Law and Syracuse University College of Law. Alma has published or co-published several articles on environmental justice law in legal journals and magazines.
---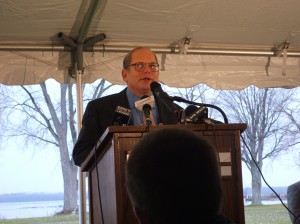 Samuel H. Sage, President
Samuel Sage serves as President of ASLF. He holds an A.B. in Chemistry from Cornell University (1965), and was a Candidate of Philosophy, Inorganic Chemistry University of Minnesota (1965-1969). Mr. Sage has worked for over 38 years on environmental issues for different organizations; the last 28 at ASLF. He is also Vice President of the International Fund for China's Environment. Mr. Sage has extensive experience with water resource issues both from a scientific as well as a policy perspective. He helped develop the major United States laws relating to water resources (especially the Clean Water Act, and the Coastal Zone Management Act). He has been involved in their implementation, and has assisted citizens and local governments at home and abroad in working in these areas. In recent years, Mr. Sage has used his expertise to help interested communities around the world become more sensitive to the need for environmental sanity and sustainable use of their resources. Much of this work uses the lessons learned from work on management of the world's greatest fresh water source, the United States-Canadian Great Lakes, to further similar goals around the Danube Basin-Black Sea, the Baltic, and Chinese riverine systems, and other major watersheds around the world. Other work by Mr. Sage covers the gamut of contemporary environmental issues including energy, biodiversity conservation, sustainable agriculture, and livable cities. A major component of his current agenda relates to pressing urban issues: green jobs, green infrastructure to control stormwater, and deconstruction of buildings to preserve and recycle their materials and energy.
---
Hongbin Gao, Project Manager and Landscape Designer
Hongbin Gao is a Project Manager and landscape designer at Atlantic States Legal Foundation, Inc. responsible for green infrastructure project management, planning, and design. He manages ASLF's technical assistance to Onondaga County's CSO abatement plan with emphasis on its green infrastructure program. Hongbin received his Master of Landscape Architecture from SUNY-ESF. Hongbin received his Master of Horticulture from Shenyang Agricultural University, Shenyang,Liaoning, China in 1997. Hongbin has worked as an instructor for the Department of Horticulture at Shenyang Agricultural University, Shenyang, China from 2000-2004. He later became a Research Project Assistant/Designer for SUNY-ESF, Syracuse, NY from 2007-2008 and was a visiting instructor from 2009 to 2010.
---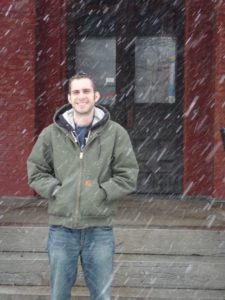 Paul M. Harris, Program Director
In his current role Paul is responsible for new program development, revisioning, partnership-building, strategic planning, development, and publicizing programmatic outcomes. Paul earned his Master of Science in Landscape Architecture degree from the State University of New York College of Environmental Science and Forestry (SUNY-ESF) in 2009, having conducted research on visual landscape quality in rural Central New York. Additionally, Paul has worked for the National Park Service's Olmsted Center for Landscape Preservation, the USDA Forest Service, and the Milton J. Rubenstein Museum of Science and Technology. He specializes in program design and implementation, visual landscape quality assessment, survey research, statistical analysis, GIS analysis, technical writing, landscape planning, grant writing, and social entrepreneurship.
---
Haichao Wang, Project Coordinator and Landscape Designer
Haichao Wang is a landscape designer at Atlantic States Legal Foundation, Inc (ASLF). His responsibilities mainly include the planning and conceptual design for ASLF's urban forestry, green infrastructure, and vacant land related projects. Haichao has been deeply involved in the site selection, communication, planning, design, and planting processes of a Great Lakes Restoration Initiative (GLRI) project carried out by a partnership between ASLF and Oswego County, NY. The GLRI aims at planting over 600 trees on Brownfield sites in Oswego County and is expected to be completed in October 2017. Haichao holds a Bachelor's degree in Environmental Science from Beijing Normal University in China and a Master of Landscape Architecture from State University of New York College of Environmental Science and Forestry in Syracuse, NY.
---
Olivia Green, Director of Water Programs
Olivia Green serves as the Director of Water Programs at ASLF. She holds a JD from the University of California, Berkeley School of Law, MS in Water Resources Policy and Management from Oregon State University, and BS in Geology and Anthropology from the University of Arkansas. Prior to joining ASLF, Olivia was a research fellow at the U.S. Environmental Protection Agency where she served as the water law and policy expert on an interdisciplinary team working to quantify the social, ecologic, and economic benefits of clustered green infrastructure installations in neighborhoods experiencing high rates of vacancy and combined sewer overflows. Her research interests also include concepts of adaptive water governance, transboundary water resources, and Citizen Stormwater Management. Through various internships, collaborations, and grants, she has worked for the U.S. Department of Justice, the Oregon Department of Justice, the Natural Heritage Institute, UNESCO, the World Bank, the City of Corvallis (Oregon), and ETH- Zurich.
---
Patrick Sullivan, Facilities Manager and GIS Technician
Patrick Sullivan is our Facilities Manager and GIS Technician. He recently finished a U.S. Forest Service grant to manage wastewater within the city of Syracuse. Patrick obtained a Bachelor of Science in Natural Resources Management from SUNY-ESF and an Associate of Science in Geographic Information Systems from SUNY Cayuga after completing a career in the manufacturing industry in gauge & measuring tool repair/calibration and environmental health & safety management.
---
Dr. Medani P. Bhandari, International Program Coordinator
Dr. Medani P. Bhandari has been working as international program coordinator since 2011. His duties include, but are not limited to, directing international programs and serving as an expert in policy fields including climate change, biodiversity conservation, globalization issues that transcend the nation state, global and environmental governance, sustainability, international organization/relations, global policy and public/social policy, conflict over natural resources, and other issues related to sustainable development and environmental change. Dr. Bhandari is also responsible for exploring relevant funding agencies, preparing research and action plan proposals; and continuing to expand ASLF networks with similarly oriented agencies. Dr. Bhandari represents ASLF to United Nations organizations and the World Bank-Global Environmental Facility, and maintains and expands ASLF's relationships while exploring the mutual ground of collaborative works in North America, Europe, Asia pacific, Africa and Caribbean.
​
Dr. Bhandari holds a PhD degree from Syracuse University in Sociology, M.A.'s in Sociology (Syracuse University) and Sustainable International Development (Brandeis University), and a M.Sc. in Environmental System Monitoring and Analysis (ITC-The University of Twente, The Netherlands). Dr. Bhandari is experienced in the conservation of biodiversity (including wildlife biology), nature and natural resources, global and international environmental politics, environmental institutions and governance, and forest governance from the grassroots to the national level with a special focus on participatory management, climate change policy and implementation, environmental justice, land cover and land use change, and environmental health hazards. His major specialties include: Biodiversity, Environmental Health Hazards, Climate Change Mitigation, Climate Change Adaptation, International environmental governance, Green Economics, Sustainability, and assessing economic, social and environmental impacts on natural resources. His field experience spans across Asia, Africa, the U.S., Western Europe, Australia, and the Middle East.

Dr. Bhandari also serves as faculty and Deputy Program Director of the Sustainability Studies Department at Akamai University, where he teaches International Relations, and International Environmental Policies and Sustainability. His additional teaching and research focus areas include sociology; environmental, political and organizational sociology; social change; social networks; global environment policy and sustainable development; environmental sociology and natural resource sociology. Dr. Bhandari is also open to contribute to core curriculum including introductory courses, environmental studies, social theory, social statistics, or social research methods, and organizational and political sociology.